MALMO AIRPORT (MMX) INFORMATION
Origin
Airline
Flight no.
Scheduled
Est./Actual
Status
No flight arrivals were found at Malmo Airport.
Destination
Airline
Flight no.
Scheduled
Est./Actual
Status
No flight departures were found at Malmo Airport.
Car Hire at Malmo Airport
UNBEATABLE VALUE CAR RENTAL
Free Amendments | Free Cancellations | No Card Fees




Malmo Airport - All Information on Malmo Airport (MMX) Malmo Airport
Malmö Airport, 230 32 Malmö-Sturup, Sweden.
phone +46 10 109 45 00
phone+46 40 613 11 18 (Lost + Found)
emailinfo@malmoairport.se
emailbaggage.mmx@aviator.eu (Lost+Found)
Facts and History about Malmo Airport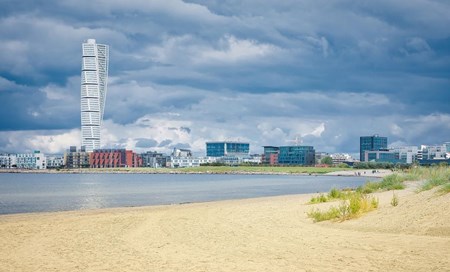 Malmö Airport (Swedish: Sturups Flygplats) is located in Svedala Municipality, approximately 17 miles / 28 kilometers east of Malmö and about 16 miles/26 kilometers south-east of Lund.
Until 2007, Malmö Airport was known as Sturup Airport. In 2018, the airport handled over 2.1 million passengers, making it Sweden's fourth busiest airport.
Malmö Airport carries the international airport code of MMX (IATA) and ESMS (ICAO). The airport sits in a slightly elevated location just 236 feet/72 meters above sea level at 55°31′48″ N and 013°22′17″ E.
Arrivals, Departures and Airlines at Malmo Airport
Airport Access
All passengers with disabilities or reduced mobility (PRM) can get special services at Malmö Airport as all travelers are entitled to assistance at the airport. You can find the assigned staff at the airport ready to assist you. However, please make sure that you make a relevant request at least 48 hours prior to the departure of your flight. Getting to Malmö Airport is easy by road. The airport is accessible from Södra Sturupsvägen in Malmö. Passengers have a wide selection of parking options to choose from, as you can enjoy everything from long-term parking, express indoor parking to express outdoor parking.
Terminal Information
Malmö Airport operates two runways, which are 2,800 meters and 797 meters long respectively. All passengers will find just one main terminal at the airport, which includes both domestic and international operations.After the security check, you arrive at the gate area that includes gates from number 1 to 8.Please refer to the airport map for more information.
Car Rentals
Several of the major rental car companies provide car hire at Malmö Airport, including Avis, Budget, Europcar, Hertz, Thrifty, and SIXT. You will also find the local car hire company MABI at the airport.It is recommended that you make your car hire reservation as soon as possible before arriving at Malmö Airport, as there is only a limited number of vehicles available for walk-up consumers.
Transport
Travelers will not be able to find a train station at Malmö Airport. However, you can enjoy easy travel options to and from the airport via buses and taxis as well as car rental.Passengers can find airport buses that will bring you between Malmö Airport and Malmö City Center and/or Lund. Furthermore, the Neptun bus runs between Malmö Airport and Copenhagen in Denmark. The airport coaches can be found directly outside the terminal.All passengers can find taxis outside the arrivals hall at Malmö Airport. The fare from MMX Airport to Malmö City Center is approximately SEK 450 plus an additional fee for trips from the airport.
Hotels near Malmo Airport
There are a number of hotels to suit all budgets and requirements at or near Malmo Airport.
Parking at Malmo Airport
See options for parking services at Malmo Airport.
Additional Services and Amenities at Malmo Airport
At Malmo Airport you will find the usual array of bars and restaurants, airport lounges and shops.
Things to do in Malmo
There are a number of activities to suit all ages and interests in the region - see a selection of tourist activities in Malmo, Sweden.
Airport Contacts
Address: Malmö Airport, 230 32 Malmö-Sturup, Sweden.
Phone: +46 10 109 45 00.
Phone: +46 40 613 11 50/ + 46 40 613 11 18 (Lost & Found)
General Email: info@malmoairport.se
Lost & Found Email: baggage.mmx@aviator.eu
Official website: https://www.swedavia.com/malmo/
Local Information
Local voltage and plug type:
In Sweden, the main electricity supply is at 230 volts (50 Hz). Types C and F with 2 pins are the most frequently used electric plugs in the country.
What side of the road for driving?
In Sweden, you have to drive on the right side of the road.
Services at Malmo Airport
Useful Information about Malmo Airport