Malmo Airport Arrivals (MMX)
Not all flights may be showing. If not available use search above to find your flight by airline, airport or flight number.
Origin
Airline
Flight no.
Scheduled
Est./Actual
Status
Stockholm (ARN)
SAS
SK105
09:20
Scheduled
Stockholm (BMA)
BRA
TF126
09:25
Scheduled
Stockholm (BMA)
BRA
TF134
11:15
Scheduled
Gdansk (GDN)
Wizz Air
W61739
11:50
Scheduled
No flight arrivals were found at Malmo Airport.
Flight Arrivals at Malmo Airport
Malmö Airport was completed in 1972 and has since served many scheduled and seasonal flights every year. In 2017, Malmö Airport served almost 2,200,000 passengers. The passenger number is still increasing year by year.
Malmö Airport Ground Transportation
Malmö Airport is located approximately 17 miles/28 km east of Malmö and 16 miles/26 km southeast of Lund. All travelers that are going to and from Malmö Airport can enjoy simple and comfortable transfer opportunities.
Passengers will find a great variety of transportation possibilities, including:
Buses at Malmö Airport: Passengers can find airport buses that will bring you between Malmö Airport and Malmö and/or Lund. Furthermore, the Neptun bus runs between Malmö Airport and Copenhagen in Denmark. The airport coaches can be found directly outside the terminal.
Taxis at Malmö Airport: Taxis are available on the ground transportation area outside the main terminal at Malmö Airport. A taxi trip from the airport to Malmö City Center takes approximately 30 minutes.
Airport Shuttles: All travelers will find various hotels and resorts that offer a shuttle service for your disposal to get you to and from MMX Airport.
Car Rental Companies at Malmö Airport: Passengers at Malmö Airport can book a rental vehicle through one of the operating car rental companies that serve the airport.
The airport is accessible from Södra Sturupsvägen in Malmö.
The address of the MMX Airport can be found below:
Malmö Airport
230 32 Malmö-Sturup
Sweden
If you have any questions or concerns you can contact Malmö Airport by telephone on +46 10 109 45 00.
Drop-off and pick-up of passengers at Malmö Airport
All guests at MMX Airport are asked to use the airport's designated pick up and drop off area when picking up or dropping off passengers. The parking lot at Malmö Airport can help save you time if you are going to pick up or drop off a passenger. You can find one pick-up space close to the passenger terminal at Malmö Airport. This is located only a 1-minute walk from the airport terminal.
For the first 0-15 minutes, parking is free of charge. The price is SEK 30 for 16-60 minutes, and after 60 minutes, the cost is SEK 30 per starting hour.
All guests can pay by credit, debit or fuel card in the automated payment machine. There is also the opportunity to pay via ePARK, SMS Park, Parkster, Mobile, and Easypark.
If you have any questions or concerns, you can contact Swedavia Parking at MMX Airport on telephone number: +46 (0)10 109 68 07 or by e-mail at parkering@swedavia.se
Malmö Airport - Special Need Services
If you have any disabilities or reduced mobility (PRM), you can get special services at Malmö Airport as all travelers are entitled to assistance at the airport. You can find the assigned staff at the airport ready to assist you. However, please make sure that you make a relevant request at least 48 hours prior to the departure of your flight.
Once arriving at the airport, please proceed to the airline's check-in point outside the terminal entrance, if you need help in the terminal and assistance at check-in. If not, once you have checked in, the service providers will meet you at a designated meeting point in the terminal.
For more information, please visit the airport website here.
Was your flight delayed or cancelled?
You may be eligible to receive up to 600 EUR compensation per person in your party..
Claim Now!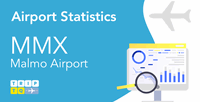 Malmö Airport Passenger Traffic Declines 7.55% in Q3 2023, Falling Short of Continued Growth in Q3 2022