Malmo Airport Departures (MMX)
Not all flights may be showing. If not available use search above to find your flight by airline, airport or flight number.
Destination
Airline
Flight no.
Scheduled
Est./Actual
Status
Stockholm (ARN)
SAS
SK106
09:50
Scheduled
Stockholm (BMA)
BRA
TF133
09:55
Scheduled
Gdansk (GDN)
Wizz Air
W61740
12:25
Scheduled
No flight departures were found at Malmo Airport.
Flight Departures at Malmo Airport
At Malmö Airport, travelers will be able to encounter a small offering of shopping and dining possibilities within the airport terminal. All passengers can also find special services at the airport, including ATM's, currency exchange options, left luggage lockers, kids play area, free WiFi connection, as well as assistance for passengers with special needs.
Shops and Restaurants at Malmö Airport
At Malmö Airport, all travelers can find a fine selection of dining opportunities to choose from. Enjoy everything from a light meal to a delicious gourmet experience at the airport. You will find different cafes and restaurants that offer both vegan, gluten-free, lactose-free, and vegetarian choices. Some of the cafes and restaurants located at the airport include O'Learys, Husman, Fika, and Espresso House. Passengers can find a full list of all the different restaurants and cafes here.
There is only a small number of stores available at Malmö Airport. However, you will be able to shop for some of the most basic items including newspapers, magazines, telephone cards, skin care products, cosmetics, sweets, tobacco and more. Besides the duty-free shop, travelers can shop at Pressbyrån, 7-Eleven, and WH Smith at Malmö Airport.
Free WiFi Connection at Malmö Airport
All passengers can get access to a free WiFi connection at Malmö Airport. You will find WiFi in the terminal areas including both sides of security. As well as throughout the remaining areas of the airport terminal building.
For visitors to get online, simply choose the Airport WiFi connection named; Airport-Guest. Then you will have to launch a web browser on your device where you will visit the welcome page. Please follow the instructions on the screen. Once you have accepted the term and conditions of use, you will be able to surf around.
All travelers can surf at no charge for three hours. If you need more time or more data, you can buy access with a credit card. The prices are listed below:
1 hour: SEK 49
24 hours: SEK 129
Prices are inclusive of VAT.
If you encounter any problems connecting or have any other questions about the network, please contact the airport WiFi support team on telephone number: +46 (0)10 109 04 50. They are open Monday to Sunday from 06:00 am to 10:00 pm.
All customers can fast and easily park their car at the designated car parking facilities at Malmö Airport. The parking spaces at the airport is a nice place that gives travelers direct access to the airport terminal within minutes. The convenient location can help you save time before your next trip, or if you are going to pick up a passenger.
At Malmö Airport, passengers have a wide selection of parking options to choose from.
Here you can enjoy everything from long-term parking, express indoor parking to express outdoor parking.
Long-term Parking
Long-term parking is one of the parking options at MMX Airport, which is located within a 3-4 minutes' walk from the airport terminal. This is the most economical parking solution for all passengers.
The long-term parking spaces can be found at P1 and P3.
Price without pre-booking costs SEK 475 per week.
Express Indoor Parking
With express indoor parking, you get a comfortable solution where you can park your car at an indoor parking space just next to the terminal. Several families with children and business travelers often use this as a quick and convenient parking option.
The express indoor parking spaces can be found at P4 and is only a 2-minute walk from the airport terminal.
Price without pre-booking is SEK 295 per day.
Express Outdoor Parking
Express outdoor is another option if you want to park adjacent to the airport terminal, however at a more affordable solution.
The express outdoor parking spaces can be found at P2 and is just a 3-minute walk from the airport terminal.
Price without pre-booking is SEK 210 per day.
Pre-book parking space
All guests can book a parking space in advance to be guaranteed a parking space. You can use this website for pre-booking a parking space. You simply have to enter the date and time of entry and exit of the parking space at MMX Airport. The airport parking system will show you which parking areas and services you can choose from.
Click on "More info" to find out more about the parking area or service.
Finalize your pre-booking by continuing to payment and enter your personal data and payment details. Once you have booked, you will receive a confirmation by e-mail.
For further information about the parking, rates please refer to this website.
If you have any questions or concerns, you can contact Swedavia Parking at MMX Airport on telephone number: +46 (0)10 109 68 07 or by e-mail at parkering@swedavia.se
Getting to and from Malmö Airport
Malmö Airport is located approximately 17 miles/28 km east of Malmö and 16 miles/26 km southeast of Lund. The airport is accessible from Södra Sturupsvägen in Malmö.
All travelers that are going to and from Malmö Airport can enjoy simple and comfortable transfer opportunities. Passengers will find a great variety of transportation possibilities, including:
Buses: Passengers can find airport buses that will bring you between Malmö Airport and Malmö and/or Lund. Furthermore, the Neptun bus runs between Malmö Airport and Copenhagen in Denmark. The airport coaches can be found directly outside the terminal.
Taxis: Taxis are available on the ground transportation area outside the main terminal at Malmö Airport. A taxi trip from the airport to Malmö City Center takes approximately 30 minutes.
Airport Shuttles: All travelers will find various hotels and resorts that offer a shuttle service for your disposal to get you to and from MMX Airport.
Car Rental Companies: Passengers at Malmö Airport can book a rental vehicle through one of the operating car rental companies that serve the airport.
Was your flight delayed or cancelled?
You may be eligible to receive up to 600 EUR compensation per person in your party..
Claim Now!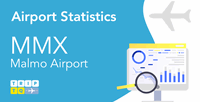 Malmö Airport Passenger Traffic Declines 7.55% in Q3 2023, Falling Short of Continued Growth in Q3 2022