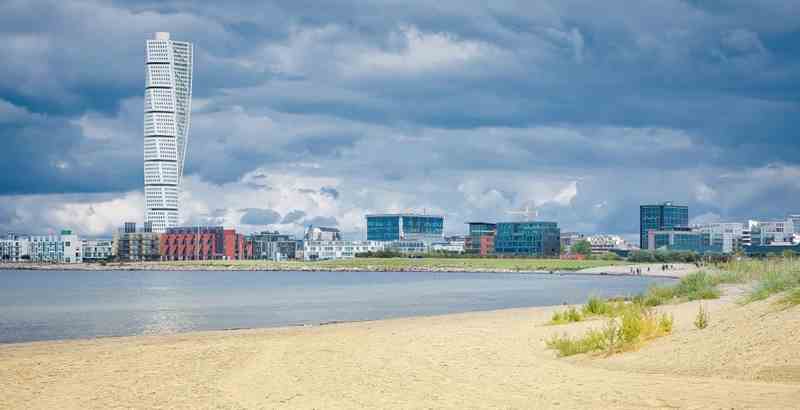 Malmo Tourist Attractions
All passengers that arrive at Malmö Airport can find their way to Malmö City Center within a 30 minutes' drive from the airport. In the heart of Malmö, you will find yourself surrounded by gorgeous nature and a lively city atmosphere. At this location, you will have the chance to see and explore so many diverse sites and attractions in the city.
Below you will find inspiration for some different, enjoyable, memorable and exciting tours you can enjoy together with your travel companion(s).
Malmö: 3-Hour Private Bike Tour
Malmö is the third-largest city in Sweden. In Malmö, there are over 500 kilometers of cycle paths and the city is one of the world's most cycling-friendly cities. So what better way to explore this city than on this Malmö: 3-Hour Private Bike Tour?
During the tour, your guide will lead you safely through the traffic while you discover the many sights of the city.
This private tour will start at a chosen meeting point located centrally in the city of Malmö. Before you jump on your bikes, you will be provided with an introduction to your bikes and biking rules in Sweden.
Once the introduction is finished, you are ready to cycle off to explore the charming town of Malmö. Malmö is functionally designed for biking, so it will be easy for you all to get around. Throughout the tour, you will gain local insight from your expert guides who have a lot of interesting stories and information to tell.
On the tour, you will all see some of the most popular sights of Malmö. The most famous sights include the Kings Park, the Möllan area, Turning Torso, Malmö Castle and more. You will also be biking around the backstreets where you can explore the undiscovered parts of the city.
Malmö: 3-Hour Guided Walking Tour
If you prefer to uncover Malmö, walking around instead of being on a bicycle this next tour is just for you. On this Malmö: 3-Hour Guided Walking Tour, you will visit one of Sweden's most important cities, Malmö, together with an expert guide.
Discover the many charming streets and admire views of the Oresund Bridge between Sweden and Denmark. At the same time, you will be learning about the city's interesting history from your guide.
You will meet your guide at Malmö Central Station. From this starting point, you will walk around different parts of the city while hearing about Malmö Castle, and the two major parks of Kungsparken and Slottsparken.
Afterward, you will continue to the Ribersborg Beach where you can learn how Malmö's locals enjoy the beach. Your guide will tell you about what happened between Denmark and Sweden and how Denmark once lost the southern part of Sweden.
Your tour will end in Västra Hamnen, which is one of the most modern and greenest neighborhoods in Malmo. Then your guide will take you back to your starting point.
Malmö: See Malmö in 30 Minutes
If you only have limited time in Malmö, you can explore the city in just half an hour on this "See Malmö in 30 Minutes" tour.
You now get the chance to go on a unique ride through the city and see Malmö's most popular attractions. You will be going around in a car, so you can simply sit back and relax without the hassle of maneuvering through traffic. During the ride, you will be accompanied by an audio guide that will explain each location to you.
Start off with a visit to Stortorget Malmö, also known as the Big Square. This was built in 1540 and is the largest and oldest square in Malmö. Next, continue to the World Maritime University, which is one of the world's leading universities in marine and ocean-related studies.
Following, you get to explore the Malmö Live Concert Hall. This is a cultural center with conference facilities, hotels, and restaurants. This location also houses Malmö University, which is the largest institute of learning in Sweden.
Your next stop will be at an old fishing village where you will learn about the tallest building in Scandinavia. Here you can buy your seafood fresh from the ocean. Make sure to get a good look at the oldest preserved renaissance castle in the Nordic region as well.
Next is the city library that opened in 1905 and offers over 3,096 books and periodicals. This is now the city's most popular library. Before ending your tour, discover the St. Petri Church, which is the oldest church in Malmö and the oldest preserved brick building.
During the tour, there will be two chosen photo stops, which are Turning Torso and Malmöhus.
Lund & Malmö: Guided Tour of 2 Countries in One Day
In just one day, you get the chance to discover two wonderful countries, Denmark and Sweden, with this Guided Tour of 2 Countries in One Day.
On this 8-hour guided tour, you will sight-see through the city of Lund and Malmö and explore the city's most important milestones. Furthermore, you will get on a beautiful ferry trip over the Oresund, visit Hamlet's castle and the Oresund Bridge in a day.
Your big adventure will start off in front of the Grand Hotel in Copenhagen. Here you will meet your friendly and informational guide before boarding your comfortable vehicle. Then you are ready to start your adventure.
Start the tour with a visit to Hamlet's Castle. This is one of the most famous tourist landmarks in this area of Denmark. Next, you will be going on a scenic drive down the coastal road of Strandvejen and arrive in the charming old town of Helsingør, known as Elsinor in English. In the city of Elsinor, you have a bit of time on your own where you can examine the fascinating streets of this charming city before boarding a boat to Sweden.
Aboard your boat, you will cruise across the Oresund. Your next destination is the shores of Sweden. When you arrive in Sweden, you will drive down the charming country roads to the ancient city of Lund. In Lund, you can pay a visit to the Lund Cathedral, which is a church that was built in 1145. Behind the Cathedral, you can explore the tiny streets, with houses that date back to the 1700's.
The next stop on your tour is Malmö, which is Sweden's third-largest city. Here you get some time on your own again. Use the time for shopping and take advantage of Sweden's lower purchase taxes. This is indeed a great place to get some low prices on goods you can bring back home.
On your way back to Copenhagen, you will pass the impressive Oresund Bridge, while taking in the beautiful views at the same time.
UNBEATABLE VALUE CAR RENTAL

FREE
Amendments,
FREE
Cancellations,
NO
card fees!

airport_shuttle Need Airport Transfers?
Useful Information about Malmo Airport